Current Kaleidoskull "EXOSKELETON" exhibition at Gamut gallery in Minneapolis, MN.
Posted on May 12, 2023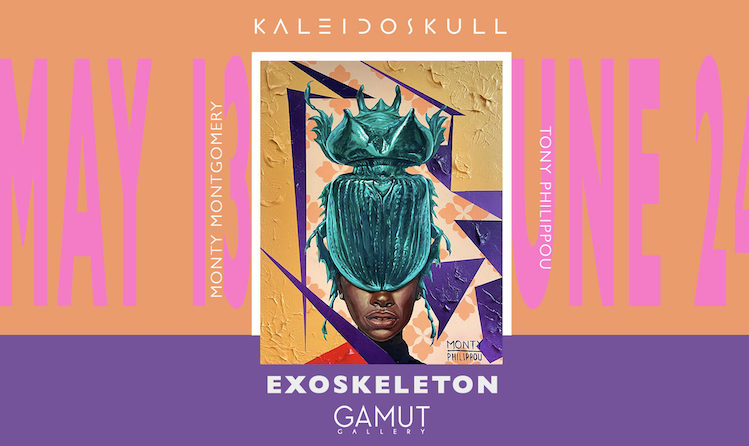 Originally introduced at the Sound of Art Exhibition in New York over 15 years ago, Monty Montgomery & Tony Philippou merged their unique artistic styles into Kaleidoskull, blending figurative realism and abstract geometry. Tony's contrasting realistic human and animal forms emerge out of the structure of Monty's precise angles of bold color, textures, and shapes.
Kaleidoskull's latest series of works featured in Exoskeleton utilize insects as representations of the literal and metaphorical translation of our defense mechanisms we use to protect ourselves physically and emotionally. Together the duo constructs visual imagery that relates to our sense of wonder at the exquisite beauty of things masked, yet revealed. Each figure in their paintings and drawings is combined with an insect as a form of armor and anonymity. Monty and Tony wish to connect with viewers through their world of imagination, inspiring the audience to feel empowered and engaged with the world they have created.
Born and raised in the Bronx, Kaleidoskull Co-Founder Tony Philippou draws upon his own mixed cultural Puerto-Rican/Greek heritage, growing up during the burgeoning hip-hop era of the 1980s. Immersed in a culturally rich environment in his formative years, while experiencing and being surrounded by extreme poverty, enhanced his life in every aspect. As a father, he has made a conscious effort to create images of heroic women that his daughter can relate to and feel empowered by.
Profoundly affected by his upbringing in the rural Blue Ridge Mountains of Virginia, Kaleidoskull Co-Founder Monty Montgomery's work has always been informed by the visceral and emotional reactions to his daily experiences, whether exploring nature or trekking the streets of downtown. The divergent settings of the natural landscape and city streets imprint Monty's artistic expression with a collision of color theory, mathematics, and abstraction; materializing into a single, unified vision.
Inspired by their combined love of geometric and organic forms, Montgomery and Philippou endeavored to create a new aesthetic that exhibited the beauty, strength, and contrast of the design elements intersecting women, insects, and color theory. Boundaries are intended to be pushed in the realm of art, design, and the remarkable synergy between nature and geometry as a definitive force.
PUBLIC OPENING: Saturday, May 13th • 6-10pm $10 presale, $15 day of the event Free for Gamut Gallery Members
Meet Kaleidoskull Founders, Monty Montgomery & Tony Philippou on opening night. We will also be kicking off our patio season during the Exoskeleton, with Kyle King, James Patrick, and Sassy G in the courtyard all night long.
CoLab ART NIGHT: Thursday, May 25th // 7pm – 10pm • $10 // 18+ There will be limited capacity, grab your tickets early so you don't miss it! Bring your own materials or work from our communal supplies.
Let the creative energy between the exhibit, Exoskeleton & other CoLab attendees inspire you. All skill levels are welcome! Bring your own materials or work from those we provide, and join us for another wholesome night of making art with friends! All visual disciplines are welcome: painting, drawing, sewing, projections, photography, design, sculpture, collage, and more. Work together, collaborate, or work solo!
GAMUT ANNIVERSARY PARTY Saturday, June 17th • 6-10pm $10 presale coming soon, $15 day of the event Free for Gamut Gallery Members
Celebrate 11 years of art, music & community alongside our current exhibit, Exoskeleton. Featuring DJ's Mama Sauce, Mplshouse, Jake Encinas & GirlE + live painting by Yuya Negishi & MORE TBA.
---
ABOUT THE ARTISTS
Tony Philippou was born in The Bronx, NY and attended Pratt Institute in Brooklyn, New York. He currently lives and teaches in Orlando, Florida. He has been a Fine-Artist for over 20 years, but originally started out as a freelance illustrator and designer in NY, Tony blended his communication and design skill set with his love for Painting. Tony explores themes of urban decay, fashion, societal trends, and contemporary subjects with aesthetic techniques inspired by Renaissance portraiture, Graffiti, and Fantasy Illustration.
As a young New Yorker with a very unique imagination, he would often conjure images of warriors and heroes who would traverse his imaginative landscapes. By experimenting with different styles and art-historical genres, Philippou depicts detailed moments that focus on both individual and universal experiences. Contrast and balance are ever present in his paintings as a mechanism for impact and readability. His work has been seen in Major Galleries across the US from New York to Los Angeles, as well as the Honolulu Museum of Art School in Hawaii and has artwork in the permanent Collection of the Urban Nation Contemporary Art Museum in Berlin, Germany.
Monty Montgomery was born and raised in Virginia and earned his BFA from Longwood University in 1998. He currently lives in San Diego, Ca. Monty began exhibiting his work professionally in 2002. In 2008 Montgomery launched the next chapter of his career by moving to a new studio in San Diego, CA. In recent years he has begun focusing on collaborative projects with other artists that play with the juxtaposition of disparate styles with the goal of stretching the boundaries of what each artist does individually. The first in 2012 was the "Kreashun Project" with J Feather and in 2016 he launched the "Kaleidoskull Project" with Tony Philippou. Both of these ongoing collaborations continue to evolve as does his personal work, each feeding off the other.
Montgomery loved black lines and bright colors at a very young age and was influenced by his mother who was a kindergarten teacher. Early memories of coloring books with bold lines and borders left an impression that reflects in his work to this day. In his teen years, Monty discovered that he connected to the world a bit differently; the realization that he was profoundly absorbing emotional and physical energy from every experience in his path led him to interpret that energy and channel it into unique creative expressions. In his junior year at Longwood University, he launched Cilli Original Designs and began spreading his word through clothing, paintings, poetry, stickers, and culture.