I painted "LIVE" and exhibited painting's at Junior Seau's Annual Legends Party with my peeps from "REZIDENT MANAGEMENT GROUP" to support a great Foundation and the San Diego Community!
Join the Rezident Management Team in celebrating the 20th year Anniversary of the Junior Seau Foundation! You will have the opportunity to raise money for a wonderful cause and brush elbows with Hall of Famers, NFL athletes, and Celebrities!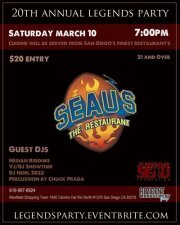 From its inception, The Junior Seau Foundation has given San Diego–area youth ongoing support. Established in 1992, the Junior Seau Foundation has raised money and resources for programs that inspire young people to face life's challenges with enthusiasm, hope and dignity.
In the past ten 10 Years, the Foundation has allocated over $4 million to organizations providing services to children and young adults. (includes annual funding of an endowment) and the Foundation was ranked the 13th largest Professional Athlete Foundation.
::ENTERTAINMENT::
DJ NOEL 2033—-www.djnoel2033.com
Percussionist Chuck Prada
DJ Showtime
Monty Montgomery Art (Live Painter)
Go-Go Dancers