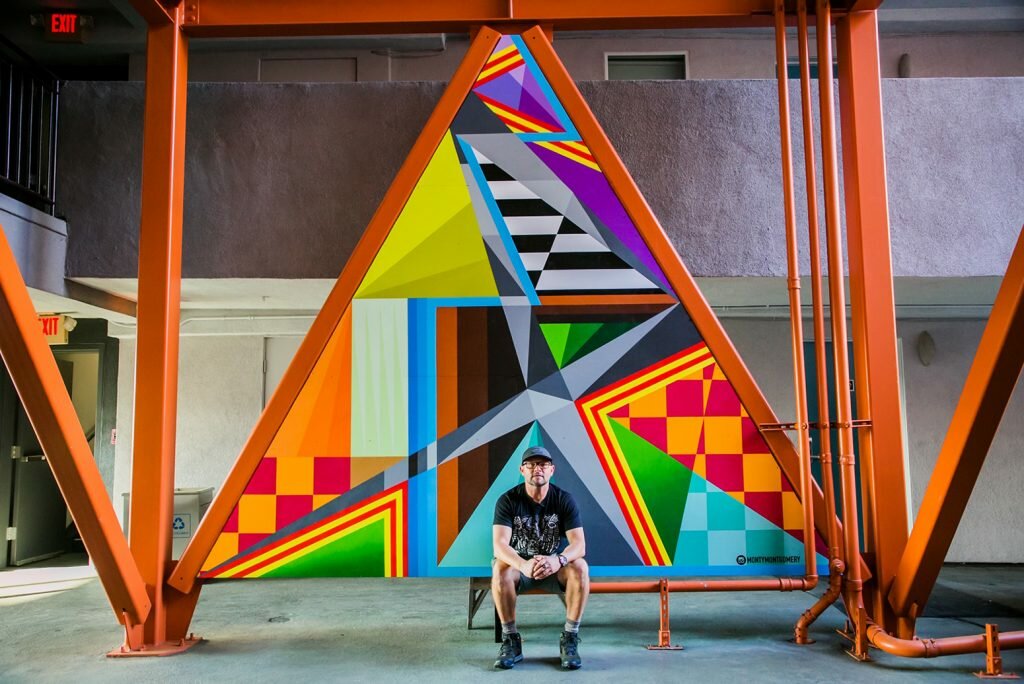 Monty Montgomery began exhibiting his work professionally in 1999. Born and raised in Virginia, Montgomery loved straight lines and bright colors at a very young age. He was influenced by his mother who was a kindergarten teacher and his father's craftsmanship. Early memories of creating in the shop beside his father along with crayons and coloring books on the kitchen table guided by his mother left an impression that reflects in his work to this day.
In his teen years Monty discovered that he connected to the world a bit differently; the realization that he was profoundly absorbing emotional and physical energy from every experience in his path led him to interpret that energy and channel it into unique creative expressions. In his junior year at Longwood University he launched Cilli Original Designs and began spreading his word through clothing, paintings, poetry, stickers and culture.
After earning his BFA from Longwood University in 1998, he took his first graphic design-based job with U.S. Graphics in Virginia Beach, VA. In 1999, he made the move to Charlottesville, VA to work for Musictoday.com while simultaneously designing projects in the music/surf/skate industries as well as operating and curating C.O.D. Gallery & Studios on the Downtown Mall in "C-VILLE". After several great years in Virginia, he made the move to Boston, MA. in 2006 to expand his vision in a major city.
In 2008, Montgomery launched the next chapter of his career by making the move to San Diego, California. Monty then spent 2019/2020 in Brooklyn, New York and Santa Fe, New Mexico before hitting the road in 2021 for projects across the USA. In 2022, Monty made the decision to permanently base his life and studios in sunny San Diego, California and the deep woods of Bumpass, Virginia. In recent years he has begun focusing on collaborative projects with various artists who enjoy playing with the juxtaposition of disparate styles with the goal of stretching the boundaries of what each artist does individually. The first in 2012 was the "Kreashun Project" with J Feather and in 2016 he launched the "Kaleidoskull Project" with Tony Philippou. Both of these ongoing collaborations continue to evolve as does his personal work, each feeding off the other.
Photo credit: Holly Jane Sutor
Artwork : "Geo #115" Mural | Montana Gold aerosol on 13′ x 13′ custom triangular wood panel | Porto Vista Hotel in the Little Italy neighborhood of San Diego, California | November 2019 | https://portovistasd.com