Come on out for the 9th annual "Art Around Adams 2012," a music and arts walk along Adams Avenue. I "PAINTED LIVE" on the sidewalk in front of VISUAL ART SUPPLY and Exhibited inside the super Koooool Art Abode for "ON THE WALL" Group Exhibit!!! This free, family-friendly event showcased an array of local artists, musicians, outrageous street performers, and interactive installations.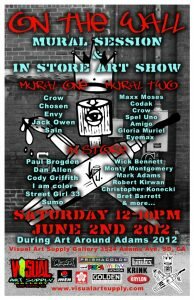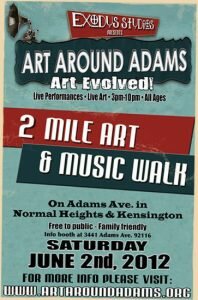 Art and music will be spilling out of local businesses and onto the street from Oregon street in Normal Heights to Vista street in Kensington. More than 75 businesses will transform themselves into art galleries and performance arenas for the day. Free "Comedy Trolleys" will shuttle guests up and down Adams Avenue, while entertaining them with the best comedians San Diego has to offer.
See the best in local art… hear the best in local music… get out and have fun!
http://artaroundadams.org/
http://visualartsupply.com/