I exhibited works in a "SOLO" get down at *FEEL IT* August 16, 2013 through September 30, 2013 in the East Village neighborhood of San Diego, Ca. **Located at 909 E Street San Diego, Ca. 92101 (707) 733-3548 **Opening reception was on Friday, August 16th 2013 from 7-10pm.
"MONTY"-Behind the ART.. A mini documentary.
http://www.vimeo.com/fcexp/monty
"MONTY" is a mini documentary created by "Poetica Films" in collaboration with "In-Print Magazine" and Monty Montgomery. It is a brief glance at the process and inspirations behind the work of the artist.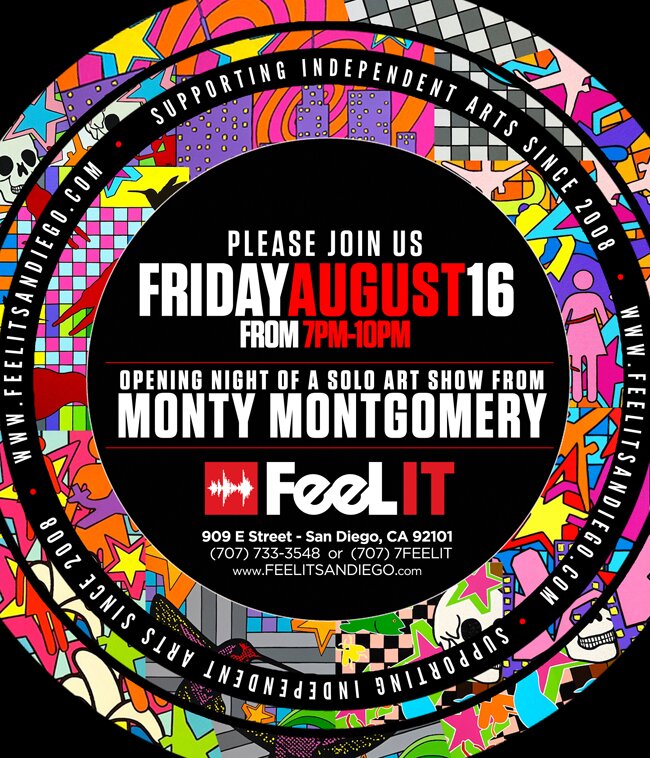 **Interview with San Diego artist Jack Ryan and Mark, discussing music,art,
fashion, vinyl & the FeeLit Five Year
Anniversary celebration.
*ListenSD – FeeLit Promo Video* http://youtu.be/4S1PFpEdve8
*Facebook Invite*
https://www.facebook.com/events/1395239250699227/http://www.facebook.com/montymontgomeryart
READER
http://www.sandiegoreader.com/events/2013/aug/16/65032/
CityBeat
http://www.sdcitybeat.com/sandiego/event-109300-monty-montgomery.html
Website : www.feelitsandiego.com
f : www.facebook.com/FeeLitSanDiego
t : twitter.com/feelitsandiego

i :
http://instagram.com/feelitsandiego#