Kaleidoskull was honored to be selected as one of the six Artists chosen for the 2018 Gallery Selections at Sparks Gallery. Tony Philippou and I had four collaborative aerosol and oil works on birch panel featured in the exhibition. Three of the new original works are featured below and the process of the forth can be seen through the "Blog".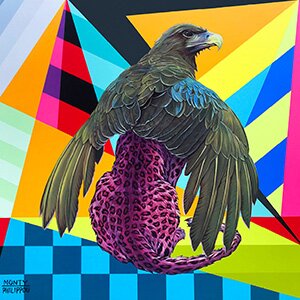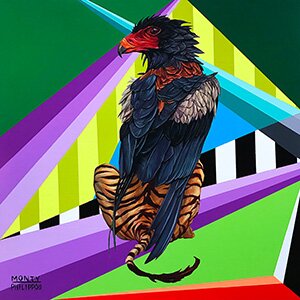 Sparks Gallery: "This Spring, Sparks Gallery will revisit our esteemed Gallery Selections exhibition with a new format and an even tighter curation of the top local talent we think collectors should know now. For year two we'll exhibit just six artists, a mix of emerging and established talent, and show eight original works from each spread across two "chapters" – a total of 42 original works for collectors to discover over the course of five months.
2018 Gallery Selections artists include Khalid Alkaaby, Paul Hobson, Kaleidoskull, Marissa Quinn, Perry Vasquez and Brady Willmott. While our selected artists represent a diversity of styles, media, and subject matter, they are united by exceptional technical skill, engaging compositions, and unique approaches to form and content.

"Chapter 1" runs from April 15 – July 10
"Chapter 2" runs from August 4 – October 7
Video of the Exhibition: https://sparksgallery.com/updates/gallery-selections-chapter-2-video-sonya-sparks

RSVP via https://sparksgallery.com/exhibitions/gallery-selections-2018-chapter-two
Featured Artists:
Kaleidoskull
Khalid Alkaaby
Marissa Quinn Art
Brady Willmott
Perry Vasquez
Paul Hobson
Ch.1 Apr 15 – Jul 10
Ch.2 Aug 4 – Oct 7



Located in the Gaslamp Quarter of downtown San Diego, the Sparks Gallery is housed in the historic Sterling Hardware Building: 530 Sixth Avenue, San Diego 92101, between Market and Island. Parking is most available at the Park It On Market parking structure at 614 Market (and 7th) for $1 per hour ($10 flat rate after 6pm on Fri/Sat/Sun or $12 on Padres nights).
Gallery Hours:Monday through Thursday: 11am-7pm
Friday through Sunday: 11am-9pm
http://sparksgallery.com