Posted on September 15, 2019
Excited to finally share that after signing on with the Louisa Arts Center in early 2016 for this upcoming September 2019 exhibition, the moment is now upon us. "Geometric Sandbox" will open on Friday, September 27, 2019 from 6-8pm inside the Purcell Gallery at the Louisa Arts Center in my hometown of Louisa, Virginia. I am so honored to exhibit at this Historic location and to be surrounded with so many memories of where I was raised. The exhibition will reflect upon my artistic path from early years as a little boy creating on the kitchen table with my Mom, Dianne Montgomery, and building things in the shop with my Dad, Steve Montgomery. The memories of my sandbox in the woods outside of Mineral, Virginia and the elements of Virginia nature is where it all began. This "Geometric Sandbox" I now call my career, began many, many years ago in Louisa, Virginia. The exhibition will feature very early works from my childhood, mid career paintings of pop culture and flow into my current visuals of abstract geometry. Thank you to the entire Louisa Arts Center FAMILY for this amazing opportunity to return HOME and share my creations. I look forward to all of the wonderful moments with everyone.

A visual of "Geo #87" below will be the featured image on the postcard invitations with the details on the backside which will be distributed starting in July! This original painting on cradled birch panel with aerosol and liquid acrylic will also be featured in the exhibition.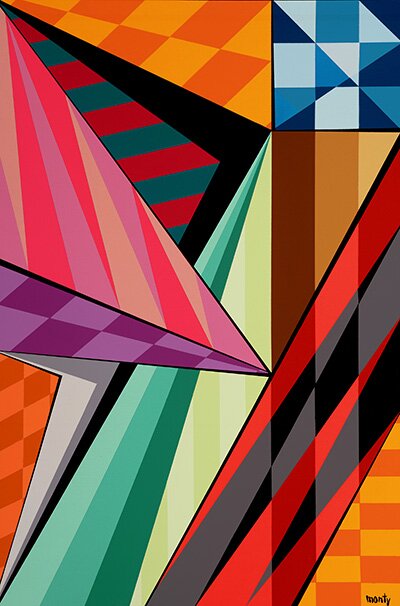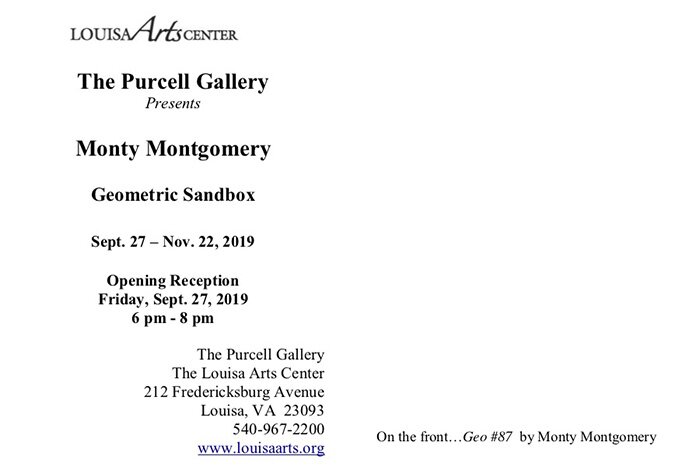 The Louisa Arts Center is located at 212 Fredericksburg Avenue Louisa, Virginia 23093. For more information please visit the website at https://louisaarts.org