Posted on January 20, 2020
Porto Vista Hotel, the art hotel of San Diego, has new installations and is inviting everyone to come check them out!
The Porto Vista Hotel Arts Program is pleased to announce a reception on Wednesday, February 5, 6-8 p.m. in celebration of two new art commissions by Monty Montgomery and Cheryl Sorg.
Eventbrite Link: https://mail.google.com/mail/u/0/#inbox/FMfcgxwGCklNfxpxPhLhSvRCdLXDwzTj
While Monty Montgomery has completed two site-specific murals of geometric abstractions in our second-floor lounge and is currently installing various large scale panels throughout the hotel, Cheryl Sorg has transformed the lobby elevator into a dynamic installation of vibrant portals scattered in an endless blue sky. We invite you to explore the new works of art while enjoying live music by Anthony B. Comito, food by the GlassDoor and a film screening by Mind Crush Productions that documents the artistic process.
Admission is free, but ticket upgrades for drinks and bites are available!
Cheers with a beer or wine for $5 or upgrade your experience to…
VIP for $15 ( includes: (2) tacos from the GlassDoor restaurant and (1) beer or house wine!)
The Porto Vista Hotel Arts Program, curated by 1805 Gallery Director Lauren Siry, aims to highlight the potential of art to transform everyday places and experiences. To learn more please visit portovistasd.com/art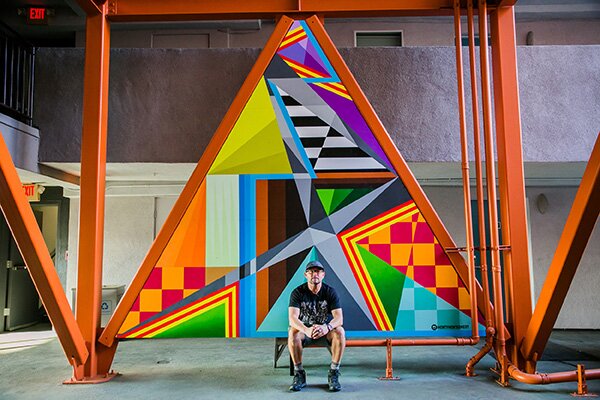 Date and Time
Wednesday, February 5, 2020 | 6:00 PM – 8:00 PM PST
Location
Porto Vista Hotel | 1835 Columbia Street | San Diego, CA 92101