The studio is coming together here Nemacolin Woodlands Resort in the majestic Laurel Highlands of Farmington, PA. Psyched to start creating daily in the studio with visiting hours Thursday through Sunday. Hand embellished prints on canvas and original works in progress will be available. I'll be hanging the exhibition in the Laurel Lane Gallery tomorrow which will feature various original paintings. Visit "Exhibits" on montymontgomeryart.com or nemacolin.com for more details.
Direct Gallery Link: https://www.nemacolin.com/activities/art
Artist in Residency Link: https://www.nemacolin.com/experience/artist-in-residence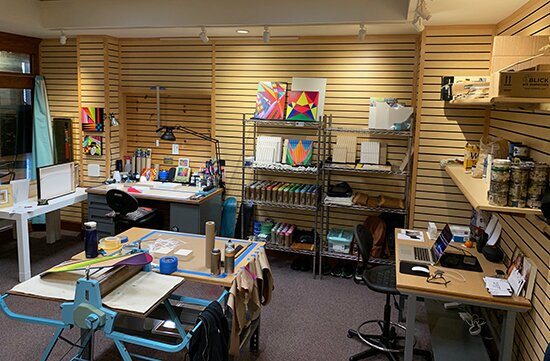 "Experience art from the bare bone beginning to the flourishing final masterpiece! Shadow the process of brush-to canvas, scissor-to-paper and wood-to-lathe with our Artist in Residency Program. Observe as artists work together creating their next element of expression. The program offers support from the resort, inspiration from our award-winning atmosphere and opportunity for artists to collaborate in once in a lifetime experience. Artists are provided with a studio that is accessible to guests and will be holding weekly meet and greet receptions. As their residency concludes, an exhibition will take place in the Walden Pond Gallery. The artist will give a final exchange and unveil their legacy masterpiece. We invite you to engage with our artists and absorb their techniques in a unique experience." -Nemacolin Woodlands Resort
Thank you to Gallery and Residency Director Amanda Hymans Shane for this amazing opportunity to create for 60 days in such a beautiful location.
#nemacolinwoodlandsresort #nemacolin #pennsylvania #laurelhighlands #mountains #artistresidency #artist #montymontgomery #montyart #geometricabstraction #contemporaryart #montanacans