Good times captured last week by Courtney Vogel Photography as the "Moment #42" mural was in the final stages of completion. An article will hit in the "Class Notes" section of the @longwoodalumni Magazine next issue! The 75′ x 8′ -Nature Series- mural in Dorrill Dining Hall at Longwood University in Farmville, Virginia is now complete with progress photos continuing.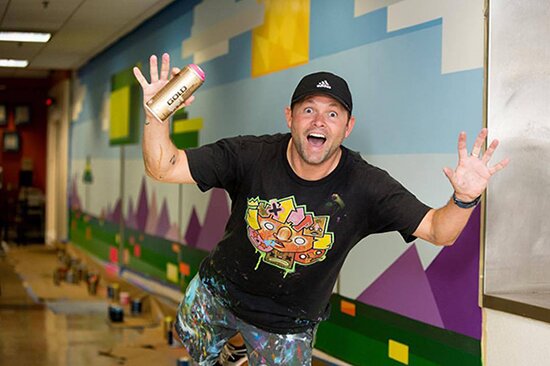 Completed mural video: https://www.facebook.com/montymontgomeryart/videos/1559926490694062
longwood.edu montymontgomeryart.com Montana Cans (official) | @goldenpaints | Liquitex Artist Materials | Valspar Paint #longwooduniversity #muralism #paintfarmvilleva #geometriclandscape #neonature #montanacans #montymontgomery — with Montana Cans (official) and Juxtapoz Magazine at Longwood University.