Gaslamp Quarter Association presents: "Rabbitville—A Hop-Up Gallery" sure to draw crowds for San Diego Comic-Con International

July 20-23
GASLAMP QUARTER (SAN DIEGO, CA.)
– The Gaslamp Quarter Association is proud to announce a limited exhibition of the "Rabbitville" public art project during the 2017 San Diego Comic Con International. This four-day long "hop-up gallery" will feature many of the rabbit sculptures which celebrate the 150th Anniversary of the Gaslamp Quarter. Located at 453 Fifth Avenue, the gallery will be open to the public from
Thursday, July 20th through Saturday, July 22nd
from
10:00am-8:00pm
and
Sunday, July 23rd
from
11:00am-5:00pm
. Photos of Gaslamp's history, limited edition t-shirts, and photo opportunities with the iconic rabbits will be available.
| | | | | |
| --- | --- | --- | --- | --- |
| | | | | |
Comic Con brings nearly 150,000 people to the Gaslamp Quarter from all over the world. As the preeminent pop culture convention, all eyes will be focused on San Diego. "We want to help share our story with the throngs of fans from around the globe that will descend on our neighborhood. Many Comic-Con visitors don't know our history," says Michael Trimble, Executive Director of the Gaslamp Quarter Association. "'Rabbitville' teaches the Gaslamp Quarter's history using contemporary art in a fun, enjoyable way."
150 years ago, the area that is now the Gaslamp Quarter was jokingly nicknamed "Rabbitville" after its chief inhabitants. The "Rabbitville" installation honors the pioneering spirit of the legendary founder, Alonzo Horton, who transformed Rabbitville into modern San Diego. Each fiberglass sculpture and stand measures seven feet high. These original sculptures have been designed by 15 artists who have created each one in various mediums. The activation is just one of the locations the herd of rabbits will be hopping to throughout the sesquicentennial anniversary year.
"Since their unveiling in May, "Rabbitville" has attracted thousands of followers! These amazing sculptures each have their own unique personality reflecting the diversity of the Gaslamp Quarter," said Trimble. "Our rich history and unique culture are exemplified in each one!"
Rabbits on display will be, Matt Forderer's "Willabee;" Tasha Hobb's "Honoring the Disdained;" Monty Montgomery's "Diego;" Sarah Soward's "Against All Odds We Thrive;" Rebecca Nuvoletta's "Ordinate;" Mario Herbelin-Canelas's "Life's Good," sponsored by Pacific Magazine; and Lee Sie's "Nelly Ghirardelli," sponsored by Ghirardelli Chocolatier. Also, visitors are certain to get a surprise sighting of the "Rogue Rabbit," sponsored by Instant Callers! This celebrity rabbit roams around the Gaslamp Quarter posing for pictures and collecting memorabilia that will later be used in a mosaic around the rabbit's coat.
San Diego City Councilman Chris Ward, the San Diego Padres, and Pendry San Diego have sponsored rabbits currently in production. For "Rabbitville– A Hop-Up Gallery" and "Rabbitville" exhibition updates make sure to check out Gaslamp.org/150.
###
To schedule a media preview of the gallery and for photos please contact Erin Liddell at or .
Pacific San Diego Article here: http://www.pacificsandiego.com/paid-post/rabbitville-hop-up-gallery
Monty Montgomery "Rabbitville" Facebook Link: https://www.facebook.com/media/set/?set=a.10154950234519079.1073741872.699014078&type=1&l=87fa52da29
"Rabbitville" Project and Featured interview link: http://www.gaslamp.org/150-2/rabbitville
"Rabbitville" Partnership opportunities: http://www.gaslamp.org/…/Rabbitville-Sponsorship-Packet-FIN…
Gaslamp Quarter | Downtown : http://www.gaslamp.org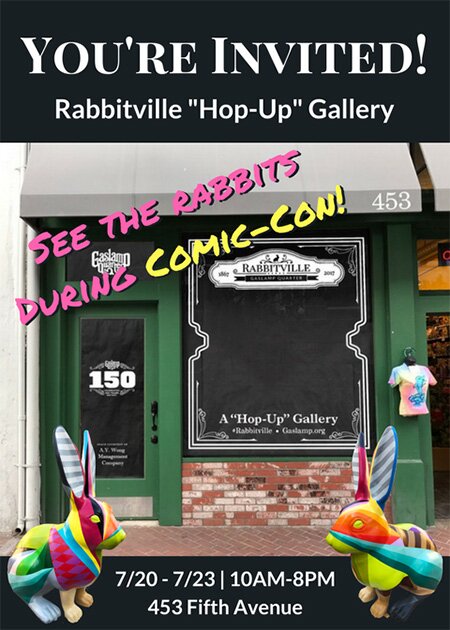 Learn More About Our 150th Anniversary