The BLOOM BASH 2019 "Geo #98" mural installation is under way here at the San Diego Museum of Art in Balboa Park! Here are a few of the 44 pieces that complete the 176ft mural which is currently being pieced together on-site and will be suspended from the roofline of Panama 66 and unveiled at the opening #bloombash party this Friday, April 12th from 7pm until 12am.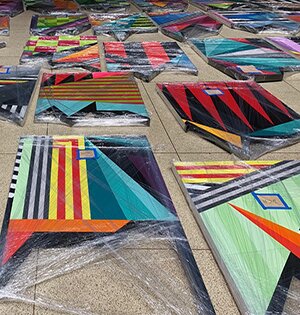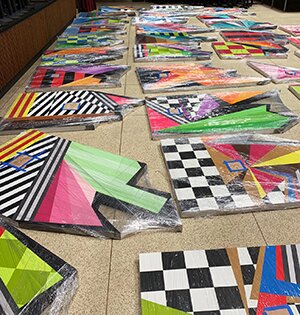 Go to this link for Bloom Bash Info / Tickets: https://www.sdmart.org/event/bloom-bash/
Grab your tickets NOW!
Also visit:
@sandiegomuseumofart https://www.instagram.com/sandiegomuseumofart/
@montymontgomery https://www.instagram.com/montymontgomery/
@polychromist https://www.instagram.com/polychromist/
@sdmasocial https://www.instagram.com/sdmasocial/
and "Exhibits" on montymontgomeryart.com for more information. Thank you to the entire San Diego Museum of Art and Pacific Event Productions TEAM! @sandiegomuseumofart @polychromist @pacificeventproductions @steffbadgett @djagow @oneeyedlauren @sdmasocial and so many others!
#artalive2019 #bloombash #balboapark #sandiegomuseumofart #behindthescenes #geometricabstraction #abstractart #montanacans #montymontgomery #montyart #sandiego