Many Thanks to Longwood University for the feature article in "ON POINT", Summer 2014 Alumni Newsletter for the University. Special Thanks to Kent Booty for all of his writing and talent towards bringing this article to life and to Andrea Dailey for all the photography.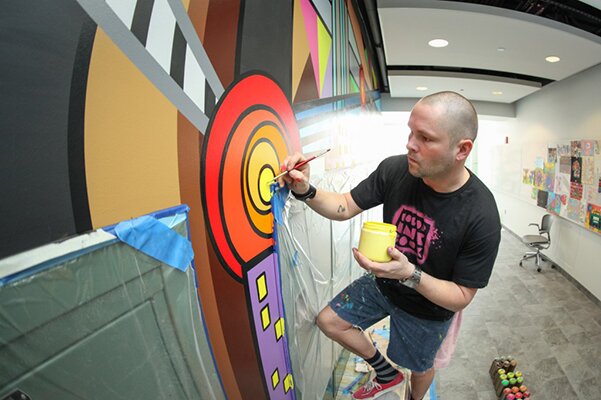 Monty Montgomery '98 has left a permanent mark on the campus building where he spent much of his Longwood career.
One of the large-scale murals for which the pop-flavored artist is known covers a wall in a first floor hallway in Bedford Hall. Eastern Rays, a cityscape that he worked on from Feb. 11-21, is his largest solo mural—45 feet wide and 13 feet high. He was commissioned to do the work by the Department of Art, Theatre and Graphic Design, part of his campus appearance as a Rosemary Sprague Visiting Artist.
"The mural represents Longwood to me—how I feel when I'm there, my years of happiness, all of the people there," said Montgomery, who lives in San Diego.
Montgomery's work, which can be viewed at montymontgomeryart.com and www.kreashun.com, has taken him to Los Angeles, San Francisco and Las Vegas. In addition to murals and works on canvas, he also paints wood blocks and skate decks.
Montgomery's career started as a Longwood junior when he launched a clothing line, Cilli Original Designs, out of the trunk of his car. After graduating, he worked as a designer for surf shops in Virginia Beach, later was a designer for an entertainment marketing company in Charlottesville—his clients included the Dave Matthews Band—has twice opened a gallery in Charlottesville and also lived briefly in Boston and Brooklyn before moving to San Diego in 2008.
"Longwood is a big part of me," said Montgomery. "It's my home; it's where I began my career." -Kent Booty
View the full article through this link: http://onpoint.longwood.edu/2014/07/02/wall-to-wall/