"Arc: The Longwood University Alumni Exhibition"
This juried exhibition showcases more than 60 years of the creativity of Longwood University graduates. Arc considers many themes and topics, such as memory, family, myth, and the supernatural. This exhibition is presented in partnership with the Department of Theatre, Art and Graphic & Animation Design, and made possible in part by the office of Alumni and Career Services.
These exhibitions and their related programs are presented by the Hotel Weyanoke. All LCVA exhibitions and programs are made possible through the generous support of the Wells-Fargo Foundation, the Walter J. Payne Foundation, Anne Carter & Walter R. Robbins, Jr. Foundation, the E.B. Duff Charitable Lead Annuity Trust, Southside Electric Cooperative, Gantt Insurance & Auto Owners, Walmart, Julie Kline Dixon and Guy Dixon, Navona & David Hart, Real Living Cornerstone, Helton House, and Haley Auto Mall.
"Arc" Facebook Invitation: https://www.facebook.com/events/431751657654220
KALEIDOSKULL "Siberian Griffin" will be featured in the Longwood University Alumni exhibition.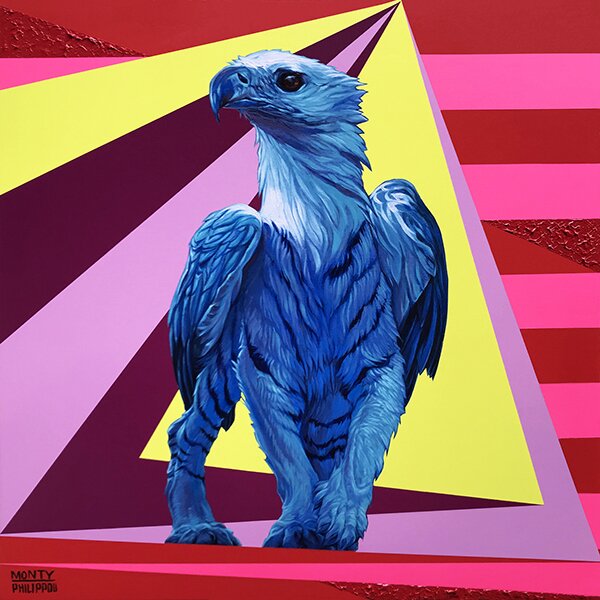 "Siberian Griffin" | Gamblin Oil – Montana Gold aerosol on cradled birch panel with UV gloss varnish | 14″ x 14″ x 1.5″
Originally introduced…
at a Sound of Art Exhibition in NY over 15 years ago, Tony Philippou & Monty Montgomery have now decided to partner together to explore a unique artistic vision. A blend of figurative realism, abstract geometry and urban themes. Contrasting organic and physical forms against the hard precise angles of bold color and shape is where the duo flourish.
Separately they work on concepts, color theory and lighting choices. At which point they will collectively review sketches for final decisions before embarking on the execution phase for their painted works and murals.
Their partnership is aimed at constructing visual imagery that is pleasing to the viewer. They would love to do nothing more than appeal to your sense of wonderment and exquisite beauty.
Visit KALEIDOSKULL : www.kaleidoskullart.com
The Longwood Center for the Visual Arts is a collaborative forum for students and faculty of Longwood University and the people of South Central Virginia to explore visual art and its relevance to everyday life.
https://www.facebook.com/theLCVA
http://lcva.longwood.edu