I am very honored and excited to have spoken to the students of San Diego State University on Tuesday, March 1, 2016 from 5:30 to 6:45 about ART and the PATH that it has carried me upon since I was a small child. The evening was was filled with great conversation and lots of learning all around. I look forward to returning to work with the students at SDSU again soon!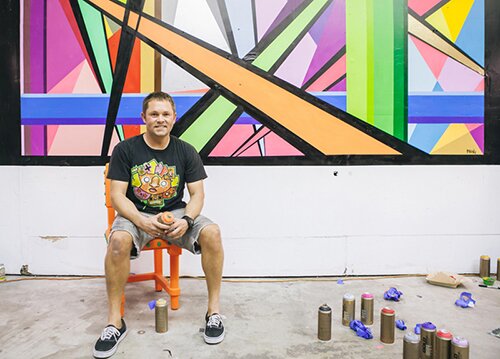 Artists + Designers In Real Time
*Below is a statement from SDSU professor and Artist David Fobes http://art.sdsu.edu/faculty-members/david-fobes/
"Muralist, Street Artist, Entrepreneur Monty Montgomery will be our speaker on March 1st, 5:30-6:45 GMCS-333 on the SDSU campus.
I met Monty Montgomery when I had asked him to assist on the SDSU Art Benches Project
http://sdsuartbench.blogspot.com/…/beach-bums-monty-montgom….
Monty is one of the most enthusiastic and generous people I have ever met. He is also one of the busiest artists on the planet and I have been trying to arrange him to speak for over a year. (He leaves the next day for a project in Costa Rica!).
His work is a reflection of his love for life and his sympathetic reaction to his immediate environment when working on a project.
Its going to be a fun evening with one of San Diego's finest ."
*Statement from Monty Montgomery
"My work is constantly based on making connections with my surroundings in nature and visually absorbing every point of attraction and emotion through various moments in public. I mold everyday situations into visual forms that express what I felt at that moment through energies, spontaneous actions, nature's offerings, and very specific spoken words that I seem to hear a little differently. I enjoy the intensity and calmness within all types of people; even more so, that moment which brings true feelings to the surface. I often channel my energy through shape and color relationships that play a diverse role in relaying something complicated or very simple. I enjoy letting the viewer decide upon how the combinations make them feel."
https://www.sdsu.edu
https://www.facebook.com/montymontgomeryart?fref=ts