Another great Exhibit with the Cannibal Flower Crew in Los Angeles!! Thanks to all the peps that rolled out!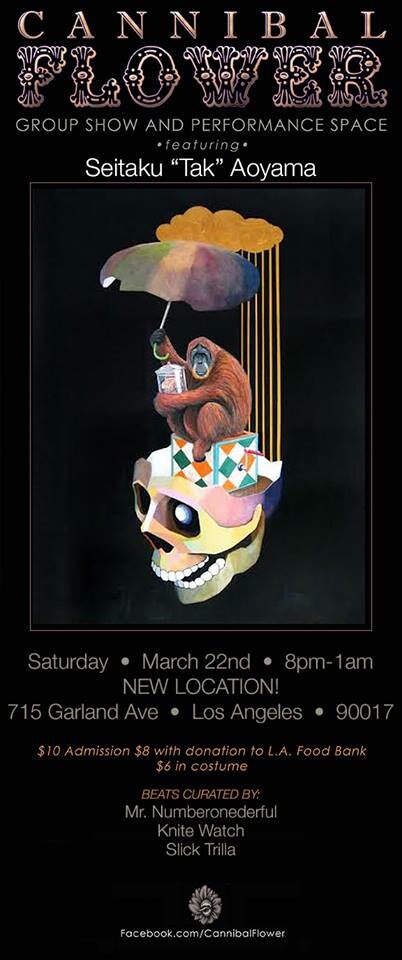 Cannibal Flower- https://www.facebook.com/CannibalFlower
Cannibal Flower Exhibit Invite- https://www.facebook.com/events/684653581585474/
Cannibal Flower
Saturday, March 22nd
!NEW LOCATION!
715 Garland Ave
Los Angeles, CA 90017-4411
$10 or $8 with food donation to L.A. Food Bank
or $6 in costume
Featured Artist
Seitaku Tak Aoyama
Huge Group Art Show
Cody Lusby, Christopher Willingham, Zara Kand, Terri Berman, Jessie Fohrman, Deryke Cardenaz, Kelly Thompson, Adam Abraham, Mark Dugally, John Hicks, Daniel Bilmes, Lynna Marie Greaves, LeftyJoe, Paul Torres, Craig Cartwright, Zachary Schoenbaum, Mary Ancillia Martinez, Monty Montgomery, Crystal Karr, Alex Wilt, Kasim Patton, Booleep, Mila Reynaud, Rebecca Navarette, Angela So, Timothee De Place, Bobby Rojas, Cary Day, Lou Minatti, Hugo Hidalgo, Joshua Keen Valencia, Olesya Volk, Aazam Irilian, and more….
Live Music By
Lantz Lazwell and The Vibe Tribe
https://www.facebook.com/LantzLazwellandTheVibeTribe
Live Painters
Performance Art
DJ's
Mr. Numberonederful
Knite Watch
Slick Trill