The Purcell Gallery at the Louisa Arts Center hosted "Free to be You," an art show with a community cause featuring donated works by Artist's from across the Country. This exhibition is part of the student's blue Ridge Virtual Governor's School (BRVGS) Senior project and is curated by high school senior, Kat Loewenstein. The event functions as a benefit-opportunity for the Louisa faction of the American Legion Auxiliary (ALA). The overall purpose of this exhibit was to raise money so that the Louisa ALA can send more juniors to the 2018 Virginia Girls State, as last year the group was only able to send three girls in total. I was honored to be included in this exhibit and to donate "Moment #12″ 18″ x 18″ x 1.5" hand embellished, archival pigment print to this wonderful cause in my home town! Thank you to my dear friends Randy and Cricket Edmonson, Pam Butler, and Stephanie Arner for also donating their beautiful works for this event.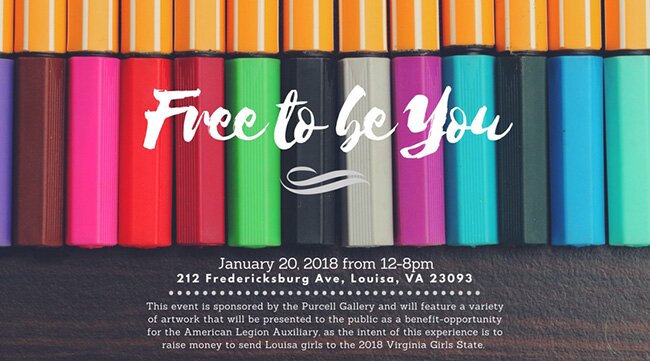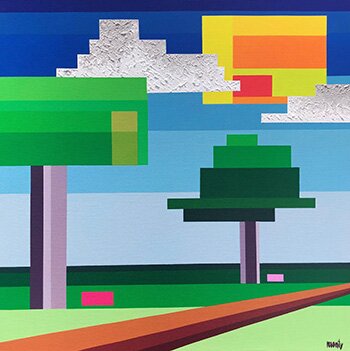 Cathrynn (Kat) Loewenstein was one of three 2017 Virginia Girls State delegates from Louisa County High School, an opportunity that was awarded to her by the Louisa faction of the American Legion Auxiliary (ALA). Since this experience had a transformational effect upon this young woman, she has decided to dedicate her senior year to "paying back" and sharing this phenomenal leadership and community contingency. As the American Legion Auxiliary has expressed a need for more funds in order to continue on with this impressive tradition,
Kat decided the best "thank you" she could give the ALA for their kindness was an event that collected resources to do just that. Due to Kat's personal passion for photography, painting, and creative writing, she decided to create and execute a show that would serve as a charity to help those in her community. Therefore, the overall goal of this art show is to raise $900+ to send at least three girls to the 2018 Virginia Girls State, a "thank you" that will allow all future delegates and featured artists the freedom to be themselves.
212 Fredericksburg Ave • P.O. Box 2119 • Louisa VA 23093
Office:
Louisa Arts Center website: http://louisaarts.org
LAC Facebook: https://www.facebook.com/LouisaArtsCenter