I was pumped to be a part of this Exhibit! Cannibal Flower had their 10 Year Anniversary Extravaganza at the Vortex located at 2337 E. Olympic Blvd.
Los Angeles. Ca. on Saturday, October 16th 9pm-2am I had "Oh Thumper" featured in the Exhibit with over 90 Artists from the L.A. area. Looking forward to the next Cannibal Flower get down soon. Check out the pics in the "photos" section.
Featured Artist
Shay Davis – http://www.shayvision.com/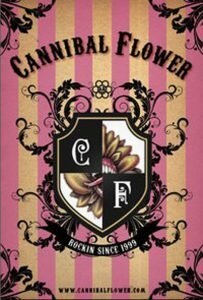 This get down featured Artists: Chet Zar, Jaime Germs Zacarias, Michael Pukac, Crystal Sylver, Cate Rangel, N.S. David, Kelly Berg, Erick Rodriguez, Paul Torres, Nicole Bruckman, Heidi BlueGirl Calvert, Nate Seubert, Win Wallace, Steven Lopez, Douglas Alvarez, William Zdan, Laura Diamond, Michael Christy, Wendy Alarcon, Genie Melisande, Chrystal Walker, Steven Lenchner, Frank Takaki, Chuck U. Farley, Greg Yoshitake, Tarikh Brown, L. Croskey, Michele Waterman, Hilary Bond, Jessica Ward, Rick Rodriguez, Navia Alejandro, Francisco Enciso, John P. Wales, Adrianne Walker, Jamia Weir, Donna Letterese, Lynn Marie Greaves, Smash CB, Christopher Willingham, Adam Smithmada, Jeffrey Vincent Parise, Leah Johnston, Well Rawls, Eban Lehrer, Lefty Joe, Amy Bernays, Eric Staniford, Brian Nieman, Antonio Pelayo, Kimberly Kite, Rhianon Marhi, Tumble Vision, Daniel B. Quinones, Melissa L. Quinones, Sze Jones, Monty Montgomery, Alex Gonzalez… & more. It's the Last show of the year!! I hope to see you there!!
http://www.cannibalflower.com