I exhibited "Three Scoops" in the "Cannibal Flower" Exhibit at SYRUP Gallery in Los Angeles, Ca. on Saturday, May 19, 2012.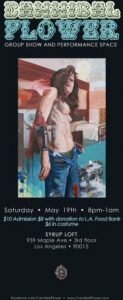 Cannibal Flower
Saturday, May 19th
8pm-1am
$10 OR $8 with food donation to the L.A. Food Bank
OR $6 with costume
Syrup Loft
939 Maple Ave., 3rd floor
Los Angeles, CA, 90015
Featured Artist
Cody Lusby
Huge Group Art Show
Angelina Christina, Lauren Haggis, Phil Santos, Steven Lopez, Lefty Joe, Genie Melisande, Q, Susan Spano, Donna Letterese, Derek G, Tim Boggs, Lynn Marie Greaves, Milenna C. Saraiva, Miguel Valenzuela, Christopher Willingham, Terri Berman, Steven Higgins, Daniella Batsheva, Zero, KIIAANNII, Angel Cutno, Monty Montgomery, Peter Adamyan, Laura Diamond, Kelly Thompson, Yuki Miyazaki, CAUSNFX, Michael Christy, Clairefoster Josiah Brown, Jorge TYME Martinez..
Live Music
Zoom-B
Live Painters
Michael Pukac
Guy Cohen
DJ's
Mr. NumberOnederul
DJ DownToEarth
http://www.facebook.com/events/380950651947882/
http://www.cannibalflower.com