I had 4 originals in The BEST OF Pancakes & Booze Art Show – Over 100 of the best P&B artists from this year!
CURRENTLY LA's LARGEST UNDERGROUND ART SHOW!!!
Fri. Dec. 2nd & Sat. Dec. 3rd from 8pm-2am on BOTH NIGHTS!
LIVE ART BATTLE and LIVE BODY PAINTING…
PAINTINGS, MIXED MEDIA, PHOTOGRAPHY, SCULPTURES, DRAWINGS, GRAFFITI!!! FASHION SHOW!!! 8PM-2AM on BOTH NIGHTS!!!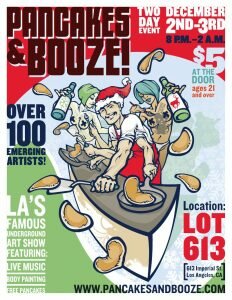 @ LOT 613 (www.lot613.com) 613 Imperial Street, Los Angeles 90021 VIEW THIS LINK TO GET AN IDEA OF PREVIOUS SHOWS!!!