***** UPDATE ***** My Artist Residency has been reinstated. I will be returning to Nemacolin in August | September 2021! For purchasing and questions, please contact art.department@nwlr.com or directly contact me through the "Connect" link on my website. Stay safe out there!
Direct Gallery Link: https://www.nemacolin.com/activities/art
Artist in residency Link: https://www.nemacolin.com/experience/artist-in-residence
Excited to announce that I have accepted the invitation for an Artist Residency at Nemacolin Resort in Farmington, Fayette County, Pennsylvania. I will be creating daily in my studio during the week and painting LIVE around the property with open studio hours Thursday through Sundays. I will be featuring various prints and works in progress in the studio where everyone is welcome to visit.. Visit here: https://www.nemacolin.com/activities/art . Feel free to contact me through the "Connect" page and visit https://www.nemacolin.com for more information. Please come visit and hang out in the beautiful Laurel Highlands mountains of Pennsylvania.
"Experience art from the bare bone beginning to the flourishing final masterpiece! Shadow the process of brush-to canvas, scissor-to-paper and wood-to-lathe with our Artist in Residency Program. Observe as artists work together creating their next element of expression. The program offers support from the resort, inspiration from our award-winning atmosphere and opportunity for artists to collaborate in once in a lifetime experience. Artists are provided with a studio that is accessible to guests and will be holding weekly meet and greet receptions. As their residency concludes, an exhibition will take place in the Walden Pond Gallery. The artist will give a final exchange and unveil their legacy masterpiece. We invite you to engage with our artists and absorb their techniques in a unique experience."
-Nemacolin Woodlands Resort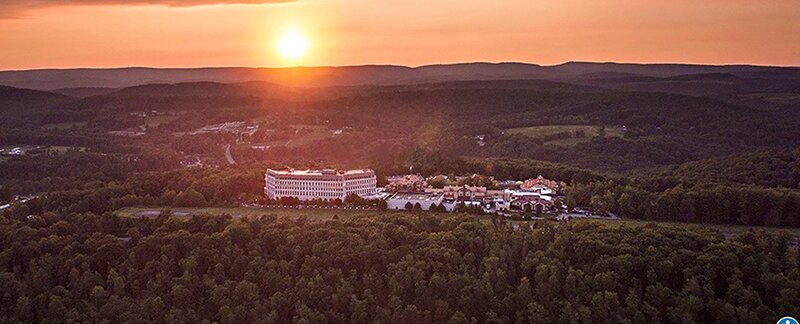 The resort is named after Chief Nemacolin, a native Delaware Indian who in 1740 trail blazed a route through the Laurel Highlands mountains between what is now Cumberland, Maryland and Brownsville, Pennsylvania. The resort is owned by Maggie Hardy Magerko, president of the 84 Lumber Company, and was founded by her father, Joseph Hardy. In 2007, Nemacolin's boutique hotel, Falling Rock, received AAA Five Diamond status. In 2009 Nemacolin's fine dining restaurant, Lautrec, received a Five Star rating from the Forbes Mobile Travel Guide and held that distinction until 2015.
In 2008, the resort housed the largest wine cellar in Pennsylvania with a collection of approximately 17,000 bottles. Nemacolin Woodlands Resort is located in Farmington, Pennsylvania – just 70-miles southeast of Pittsburgh. The address is 1001 Lafayette Drive, Farmington, PA 15437. For detailed directions please visit: https://www.nemacolin.com/directions Thanks so much to Art and Gallery Director Amanda Haymans Shane for this invitation to create in such a beautiful environment.