What an awesome opening with Melissa, Kaori and all of the guests. This exhibition will ran through November 3, 2017. I hope all of you were able to pop through and enjoy the show! Cheers, Monty
"Angles & Energy"
For Immediate Release:
(La Jolla, CA) La Playa Gallery presents a new art exhibition entitled "Angles & Energy."
This show features the works of three dimensional artists, Kaori Fukuyama, Melissa Walter and Monty Montgomery. The public is invited to indulge in the artistic relationship between geometry and the components' macrocosmic order. By observation, participants are called upon to take note of one's emotional feelings, a gateway to understanding intrapersonal intelligence.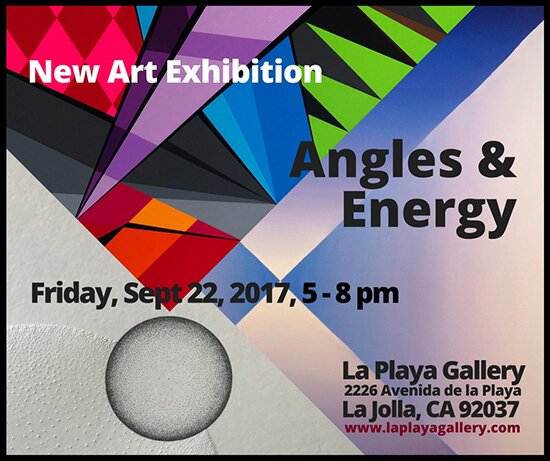 A wine and cheese art reception introducing the artists was held Friday, September 22, 2017 from 5:00 – 8:00 pm. La Playa Gallery is located at 2226 Avenida De La Playa, La Jolla, CA, in the heart of La Jolla Shores. The gallery is open Monday – Friday, 10:00 am – 5:00 pm. For information, or individual appointment please visit www.laplayagallery.com or call (858) 454-6903.
ABOUT LA PLAYA GALLERY
La Playa Gallery offers the public a unique collection of paintings, jewelry and sculptures. The gallery takes pride in offering its patrons and the public an exciting variety of themed shows throughout the year.
Exhibition Video: https://www.facebook.com/montymontgomeryart/videos/1585976264755751/
Facebook Event: https://www.facebook.com/events/1369758283122559/