It was an honor to do this portrait of "KHAKI" for my great friend Carlos Lola of Virginia Beach, Virginia. Carlos and I have been great friends since being room mates in college at Longwood University in Farmville, Va. I've been in and out of Khaki's life since the day he picked her up and she will be so missed by many many folks. RIP Khaki, you will always be with us and cherished. We miss you beautiful girl!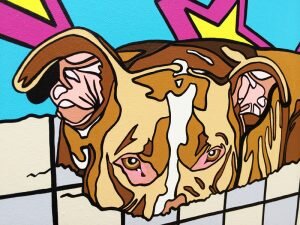 **To view the creation of Khaki, hit the FB link below and view the full painting in the "Gallery" 2013 on this website.
https://www.facebook.com/montymontgomeryart/media_set?set=a.10152125635859079.1073741844.699014078&type=1
**For more information on a pet portrait, contact through the "contact" page.