I am honored and excited to announce that I will be headed to my Alma Mater, Longwood University in Farmville, Virginia to participate in the 2015 Virginia Children's Book Festival. The VCBF will take place on October 16th and 17th on the Longwood University campus. Looking forward to reading and creating with kids from all over the map. I have donated a painting titled "Reading between the lines" to the VCBF which can be viewed through this link http://montymontgomeryart.com/?attachment_id=6801. The painting will be auctioned off at the VCBF fundraiser on Thursday, October 15, 2015. Here's the Facebook link for the Fundraiser event which will be held at the Fishin' Pig located at 5169 Farmville Road, Thursday night the 15th, on the eve of the Festival from 6-8pm. https://www.facebook.com/events/878476932201683/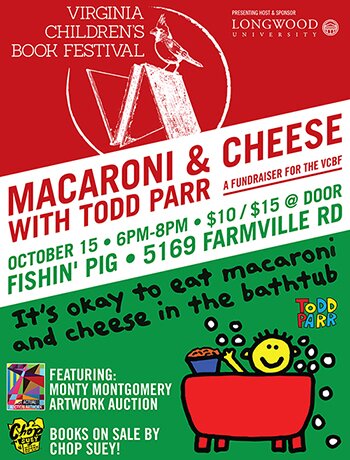 Todd Parr, San Francisco Bay Area children's author and illustrator, reveals about himself, 'I like fog. I like the sea lions and the dolphins. I like to paint. My favorite color is blue. My favorite food is macaroni and cheese.' The VCBF is pleased to have Parr return for the second year. Chop Suey Books will be selling Parr's books so you can have them autographed, while eating your macaroni and cheese!
Tickets are $10 in advance and $15 at the door. You may buy tickets at Mainly Clay, 217 N. Main, or Rochette's Florist, 100 S. Virginia, or from Allison Crews at natural phuel, 804-307-9608. Bar and other menu items available for purchase during the event. Funds raised will go to benefit the VCBF tradition of distributing books at the Farmville and Crewe Christmas parades. The VCBF is always looking for helping hands, physically and financially. Their mission, as Juanita Giles, executive director, reminds us 'is to create a culture of literacy in our region in particular and our Commonwealth at large. Please bring your family and your students to the VCBF October 16th and 17th and join us in making our mission a reality'.
Visit www.vachildrensbookfestival.com to see the entire schedule for the Festival and to see how you can help!