Here onsite in the new pop up studio at Pacific Event Productions beginning the 180ft suspending mural to be installed for BLOOM BASH 2019 with the San Diego Museum of Art in Balboa Park during Art Alive this April.
Thank you to the SDMA Family for this amazing opportunity, and to the PEP Creative group for this sweet studio to work in for the next month as the forty four 4' x 8' panels come to life! *Completed mural images will be released after the event.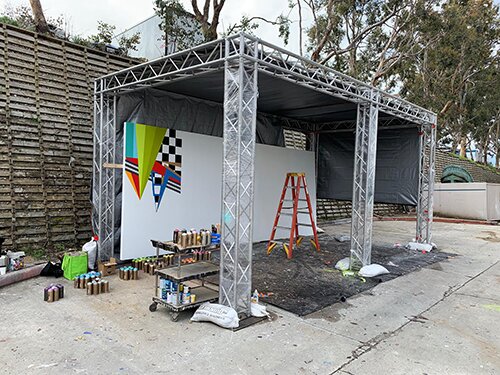 Bloom Bash tickets are on sale at sdmart.org/artalive so grab your tickets before the event sells out!
Bloom Bash: https://www.sdmart.org/event/bloom-bash/
Art Alive FB Link: https://www.facebook.com/events/343162626437781/
#artalive2019 #artalive #museumlife #sdma #sandiegomuseumofart #bloombash #bloombash2019 #muralism #mural #montymontgomery #montyart #montanacans